Casa di campagna 3 stanze da letto, 200 m²
Dicomano, Firenze (provincia)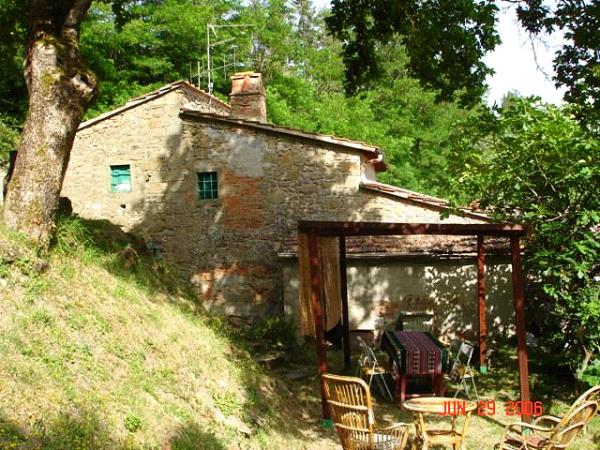 Caratteristiche
giardino
terrazza
cantina
Descrizione

"Gugena," our home in Tuscany
The word "Gugena" is of unknown origin but refers to a small cluster of houses (about 10) spread over at least 50 acres that make up our neighborhood. We have adopted the word, "Gugena," for our own house. We speculate our house is 400 years old. It was obviously built in stages and as late as 60 years ago housed four contadino (farming) families who farmed the local hills. In fact, it is possible to find old picture post cards of our area with all the hills (actually small mountains) covered with fields. The work was backbreaking and it's no surprise that there are very few working farms left. These days our "neighborhood" is populated by "old timers" who have hung on over the years, their children who use the family homes as weekend retreats, and others who have bought homes to enjoy the quiet countryside such as ourselves. We've owned the home for 44 years. Sadly, we have reached an age where we must "downsize."

Location and how to find "Gugena"
We are located 28 miles north-east of Florence, in what is called the "Upper Mugello Valley", i.e., the eastern end of the Mugello Valley. Dicomano is the entrance into the Mugello Valley proper (i.e., from the east). Gugena is approximately 650M above sea level near the Casentinesi Forest National Park, an unspoiled area where you can still find deer, wild boar, wolverines, badgers, foxes, and a wide variety of other wildlife.

From Florence take the Strada Statale (state road) 69 east following the Arno River to Pontessieve. At Pontessieve the SS 69 turns left, northeast, and passes through La Rufina, Dicomano, and, after 3 miles, goes through the village of San Bavello. In San Bavello turn right over the old stone bridge (there is a sign that says "Gugena") and then follow the dirt road uphill for a little bit over a mile to reach the house.

One can also access the Mugello Valley by going north from Florence on the A1 turnpike (Autostrada del Sole), exiting at Barberino and going through San Piero a Sieve, Borgo San Lorenzo and Vicchio (where Giotto was born) to Dicomano.

Description of "Gugena"
There is a long drive (enough for 5-6 cars) leading to the front door. Above the driveway is a yard in front of the house. Behind the house there are two terraces which curve together at the end of the property. There are spectacular mountain views from the upper terrace and the yard in front of the house. Above the house (not part of the property) there is a forest that stretches uninterrupted to the top of the mountain. Immediately below our property is one large home and 3 tiny townhouses of which only one is occupied. All are below our house. The 8 rooms consist of:
1. Outside storage room (part of the house with a separate exterior access).
2. Main living room with fireplace and TV (satellite dish).
3. Dining room/kitchen with gas stove (we use gas bottles), refrigerator, sink,
cabinets, etc.
4. "Basement" consisting of the old stall that has never been renovated but would
make an excellent family room.
5. Utility room with washing machine and interior staircase to 2nd floor.
6. One bedroom at the top of the staircase with door to the outside upper terrace.
7. Second bedroom.
8. Master bedroom.
+ Bathroom with sink, toilet, bidet, and shower.

Utilities
Electricity: We are connected to the local grid and receive a quarterly billing.
Water: We are connected to municipal water and pay quarterly.
Gas: We use gas bottles for the stove.
Telephone: At one time we had a phone with landline but stopped service since it was an unneeded expense. It would be easy to reconnect since all poles and wires are still present.
TV: We use a local satellite dish network.
Garbage: Local residents take their garbage in plastic bags to the dumpsters near the main highway in San Bavello. There is no charge for this service.
Sewage: All used water goes through a treatment system and septic tank of a design approved by the Tuscan Regional Authority.
Heating: We currently use space heaters with gas bottles on those rare occasions when heating is desired.
Real Estate taxes: Less than $300 per year.
Private Road Fee: The road from the main highway up to Gugena is maintained by the local residents. Our quota is less than $200 per year.

Home Upgrades and Improvements
+ Driveway with upper and lower reinforced retaining walls.
+ A double waterproof wall around the house to assure there is no leakage from the
mountain into the house.
+ Installation of a septic tank approved by appropriate offices of the Tuscan Regional
government.
+ A new tile roof, supporting slats and beams (over both the main bedroom, guest
rooms, kitchen, and bathroom).
+ A new tile floor in 2 of the 3 upstairs bedrooms with supporting slats and beams
(over the living room and utility room).
+ A new staircase from the 1st to ground floor.
+ New washing machine.
+ New tile floor for living room and kitchen/dining room.
+ Completely redone bathroom with sink, bidet, toilet, and shower.
+ Outdoor pergola for shade when eating and entertaining outdoors.
+ Connection to municipal water.

Real Estate Representative
We have an exclusive representative for the sale of the house who would be glad to accompany you for a visit if desired. Please contact:
Ms. Loredana Pecorella
Immobiliare Attutotondo snc
Via Cantagalli 15r
Florence, 50125, Italy
C: +39-055-292736
Email: loredana@immobiliareattuttotondo.it

Public Transportation
At last count there were 13 trains daily each way between Dicomano and Florence. There are also numerous buses. The train take about an hour. However, you need a car if you plan to stay at Gugena or anyplace in the countryside. There is also train service from Dicomano to Vicchio, Borgo San Lorenzo and to the eastern of side of Italy to towns such as Ravenna and Ancona.

Local Services
Dicomano is a small but fully equipped town with post office, supermarket, drug store, restaurants, coffee bars, hardware store, churches, clothing stores, train and bus stations, etc. It's a very attractive and quaint place and the people are wonderful.

Points of Interest
Florence: Only 25 miles from Dicomano it is justifiably famous around the world. There are numerous websites that give limitless information on the history and art of this fabled city. Florence, being so famous, results in the Mugello Valley being kept in its shadow. However, like all of Italy, history is never far away:

San Godenzo: Only 5 K"s north of San Bavello it hosts a church which received Dante on his first stop during his "flight" from Florence in 1302. The church was already 350 years old. The town has an annual Dante celebration with reading from the "Divine Comedy," period costume displays, and a medieval dinner in the church courtyard. (see: https://vialucispress.wordpress.com/2015/05/24/the-benedictine-abbey-of-san-godenzo-dennis-aubrey ). San Godenzo also has the best restaurant for price we have ever found in Tuscany, Albergo Agnoletti. (see: http://www.insangodenzo.it/styled-4/agnoletti/agnoletti.html ).

Dicomano: This town has a lovely historical center, picturesque river runner through it, and a historic stone paved path (dating from Roman times?) above and behind the town that offers attractive views. As mentioned above this town we use as our transportation and commercial center.

Vicchio: Just 5 miles to the west of Dicomano is Vicchio best known as the home of Giotto. There is a museum (See Casa di Giotto: http://www.comune.vicchio.fi.it/opencms/opencms/MenuPrincipale/Territorio_e_turismo/Musei_e_monumenti/Casa_di_Giotto/index.html. It contains a PDF with a translation in English). The center of town occupies the top of a hill with historic buildings (see: http://www.comune.vicchio.fi.it ).

Borgo San Lorenzo: This is the biggest town in the valley with all the services of a small city including a hospital and large hotel. It has a wonderfully preserved old city center with most of the original city wall. (See: https://en.wikipedia.org/wiki/Borgo_San_Lorenzo )

Faggiolo: Further to the west is this beautiful villa of the Medici. (See: http://castellodicafaggiolo.com )

Scarperia: This town is west of Faggiolo and found slightly up the side of Apennines on the north side of the Mugello Valley. It is famous for making fine knives and scissors and its wonderfully medieval town hall with family coats of arms on its walls. (see: http://www.mugello-info.com/scarperia.htm#.VrNYltIrKt8). It is perhaps better known as the home for the Autodromo di Mugello (i.e., race track). This is where Ferrari tests many of its cars, where the Italian Moto GP is held, and from time to time Italy's Formula One race. (see: http://www.mugellocircuit.it)

Etruscan Ruins: The Mugello Valley hosts many archeological sites from Etruscan times. Here is one of them near Vicchio: https://en.wikipedia.org/wiki/Poggio_Colla.

Siena, San Gimignano, Pisa, Lucca: are all within 2 hours driving distance.

Sport Activities and Facilities
Hiking, Trail Running, and Mountain Biking: The local mountains are crisscrossed with endless numbered and maintained trails.

Road Cycling: For the beginning and intermediate rider there are hundreds of kilometers of flat and rolling roads throughout the Mugello Valley. For those seeking greater variety there are more than 10 nearby passes over the Apennines in the 850 – 1300 M range that will challenge the best of atheletes.

Sports Center – Dicomano: There is a running track, basketball court, two tennis courts and other sports facilities open to the public.

Swimming Pool – Vicchio: There is a full size Olympic swimming pool open to the public.

Horseback riding: There are nearby stables where one can rent horses for local excursions.




Dettagli
Casa di campagna

Completamente ristrutturato/Abitabile

200 m²

3

1

400 m²

300 m²

50 m²

Gugena
Distanza da:
Le distanze sono calcolate in linea d'aria
Le distanze sono calcolate dal centro del Comune.
La posizione esatta dell'immobile non è stata indicata dall'inserzionista.
5.9 km - Stazione ferroviaria - Dicomano

17.5 km

78.1 km

37.0 km
Informazioni su Dicomano
162 m s.l.m.

61.63 km²

Collina interna

5439
Mappa
L'immobile si trova all'interno del Comune evidenziato.
L'inserzionista ha scelto di non mostrare la posizione esatta dell'immobile.
Google Satellite View©
Contatta il proprietario
920 Cobblestone Ct, Alpharetta, 30009, USA, Alpharetta,
Dacci la tua opinione sull'inserzione
Aiutaci a migliorare la tua esperienza Gate-away dando un feedback su questo annuncio.
Non valutare la proprietà, ma solo la qualità con cui è presentata.