Villa 4 stanze da letto, 1000 m²
L'Aquila, L'Aquila (provincia)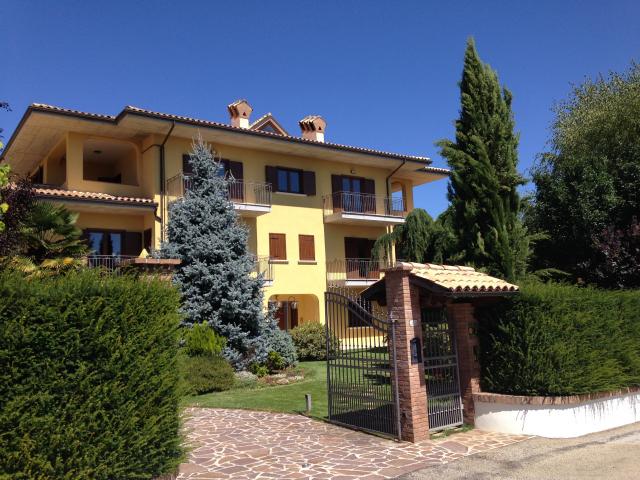 Caratteristiche
giardino
terrazza
garage
cantina
Descrizione
Full turnkey property!
This fantastic villa has been built in 2001 and completely renewed on 2010 with an impeccable attention to detail and the best materials on the market. The structure is built in reinforced concrete and in compliance with all the seismic regulations.
The building consists of an underground cellar, a ground floor with boxes and a basement apartment, a first floor currently divided into two not-finished apartments, a second floor with a finished apartment and a partially habitable garret. The ground floor has a gross surface of 3.400 sqft (315 sqm) and hosts three double-boxes of 1.540 sqft (143 sqm) and of a basement apartment of 1.400 sqft (130 sqm) completely finished. The three double-boxes can easily host 6 cars and are equipped with three independent automated doors for vehicles entrance. The basement apartment is composed by one bathroom, one bedroom and an open space of 1.000 sqft (93 sqm) housing a fully furnished kitchen and living room with fireplace, sofas and wooden tables for more than 20 guests . From the ground floor there is the direct access to the underground cellar of 280 sqft (26 sqm) and to the upper levels through marble stairs The first floor of 3.160 sqft (294 sqm) gross surface is currently divided in two main apartments not finished (no partition walls and no flooring). Each apartment at this level has a gross surface of 1.580 sqft (147 sqm) and is equipped with an independent armoured door and wooden window fixtures and blinds. Each apartmens has its own balconies and terraces. Depending on the preference of the buyer, such apartments could be finishes as two single apartments, joined to form a single apartment of 3.160 sqft (294 sqm) gross surface or divided into up to to ten (10) single rooms with private bathroom for usage as accommodation facility (boutique-hotel or bed & breakfast). If requested, interior design projects for each the above three options can be made available to the buyer. The second floor has a gross surface of 1.916 sqft (178 sqm). This apartments is completely finished with luxury finishing and consists of 3 double bedrooms (one with balcony and one with balcony and terrace), two bathrooms (one with jacuzzi and one with body jets shower and private terrace), a big kitchen and a living room. Both the kictchen and the living room have direct access to a huge habitable covered terrace with a beautiful view on the city of L'Aquila. The apartment has an independent floor heating system and a pellet fireplace in the kitchen. The garret is partially habitable and has a gross surface of 2.626 sqft (244 sqm). The property is surrounded by a beautiful lawned garden of 13.000 sqft (1.200 sqm). The garden has been designed by a famous garden's architect and is composed by a careful selection of trees, small bushes and flowers ensuring an amazing contrast of colours in each season of the year. A 22 ft (2 m) thick yew hedge is planted all around the garden ensurung an absolute privacy from neighbours and meddlers. An automated irrigation system and a robotic lawn mower ensure an unmanned daily maintenance of the lawn. A double brick barbecue has been built in one of the corners of the garden ensuring the maximum enjoyment of the outdoor spaces with family and friends.
More about the location of this property. The offered property is approximately:
2 minutes walk far from the Christian Catacombs of San Vittorino
3 minute drive far from the Amiternum Amphitheater ( https://en.wikipedia.org/wiki/Amiternum )
7 minutes drive far from the city of L'Aquila
10 minutes drive from the San Donato golf course ( http://www.sandonatoresort.it/en )
30 minutes drive from the Lake Campotosto ( https://en.wikipedia.org/wiki/Lake_Campotosto )
30 minutes drive from the Gran Sasso d'Italia mountain and national natural park (https://en.wikipedia.org/wiki/Gran_Sasso_d%27Italia )
30 minutes drive from Campo Imperatore and Campo Felice ski parks
60 minutes drive from Rocca Calascio Castle ( https://en.wikipedia.org/wiki/Rocca_Calascio )
60 minutes drive from the Adriatic sea coast
60 minutes drive from Rome city center
60 minutes from Pescara International Airport
90 minutes drive from Rome Fiumicino International Airport
More about Abruzzo region.
Abruzzo is located in south central Italy between the central Apennines and the Adriatic coast. This is the region of Montepulciano red wine and Pecorino white wine, and some of the best italian food products like Navelli's saffron (known as "the red gold") and the black truffle (known as the "black gold"). Abruzzo is picturesque in its scenery. Many old villages were abandoned and remain largely intact and the country side is rich with historic sites. It is often said that Abruzzo has as many castles as it does sheep. Most of this sleepy region has remained lock in medieval times making Abruzzo the first stop for those seeking to take a glance at the past or a chance to see nature as it was hundreds of years ago, unspoiled and perfect. The Parco Nazionale d'Abruzzo, an impressive national park founded in 1922, is host to every variety plant and animal imaginable and considered the most important park in Italy. No other park in Italy is better developed for camping and recreational activities. Great stands of beech, oak, and birch can be found in the park along with beautiful wild flowers of every color and design. The brown bear of the region along with wolves, eagles, and large wild cats find refuge in the park, making Parco Nazionale d'Abruzzo a haven for vanishing species.
For more info about Abruzzo: http://www.italia.it/en/discover-italy/abruzzo.html
Dettagli
Villa

Completamente ristrutturato/Abitabile

1000 m²

4

3

1200 m²

40 m²

Casa
Distanza da:
Le distanze sono calcolate in linea d'aria
Le distanze sono calcolate dal centro del Comune.
La posizione esatta dell'immobile non è stata indicata dall'inserzionista.
1.2 km - Stazione ferroviaria - L'Aquila

680 m - Presidio Ospedaliero di Collemaggio

62.0 km

14.0 km
Informazioni su L'Aquila
714 m s.l.m.

473.91 km²

Montagna interna

69605
Mappa
L'immobile si trova all'interno del Comune evidenziato.
L'inserzionista ha scelto di non mostrare la posizione esatta dell'immobile.
Google Satellite View©